To save colors and take care of the planet, print this text in shades of gray
Put yourself in the shoes of the beneficiaries of an idea, project or process.
Pratique
The success of any project or the fruition of any idea largely rests on how attentive we are to those it is intended for: it's what we call a user-centric or user-centred approach.
An empathy card is a tool that enables the participants of your workshops to project themselves into the environment, behaviour, concerns and aspirations of the beneficiaries.
The overarching aim is to improve coherence between the proposal and the beneficiary.
Time needed: 30 minutes
Materials:
Blank empathy card template (or outline)
Something to write with
The notion of empathy is key: we want to put ourselves in the shoes of the beneficiary through their channels of perception (what they hear, what they see, etc.).
Before starting the exercise as such, ask the participants to clarify the topic they want to work on. You can then ask them to discuss the beneficiaries of the selected idea, project or process: Who are they? Do they need to distinguish between several types of beneficiary?
Once everyone is agreed on the beneficiaries, split the participants into sub-groups of 3 to 8 people.
Ask them to fill out the blank empathy card template below, starting with perceptions (the four boxes at the top: thinking, seeing, speaking, hearing).
Ask them to be as specific as possible, imagining how the beneficiary would write things in their own words.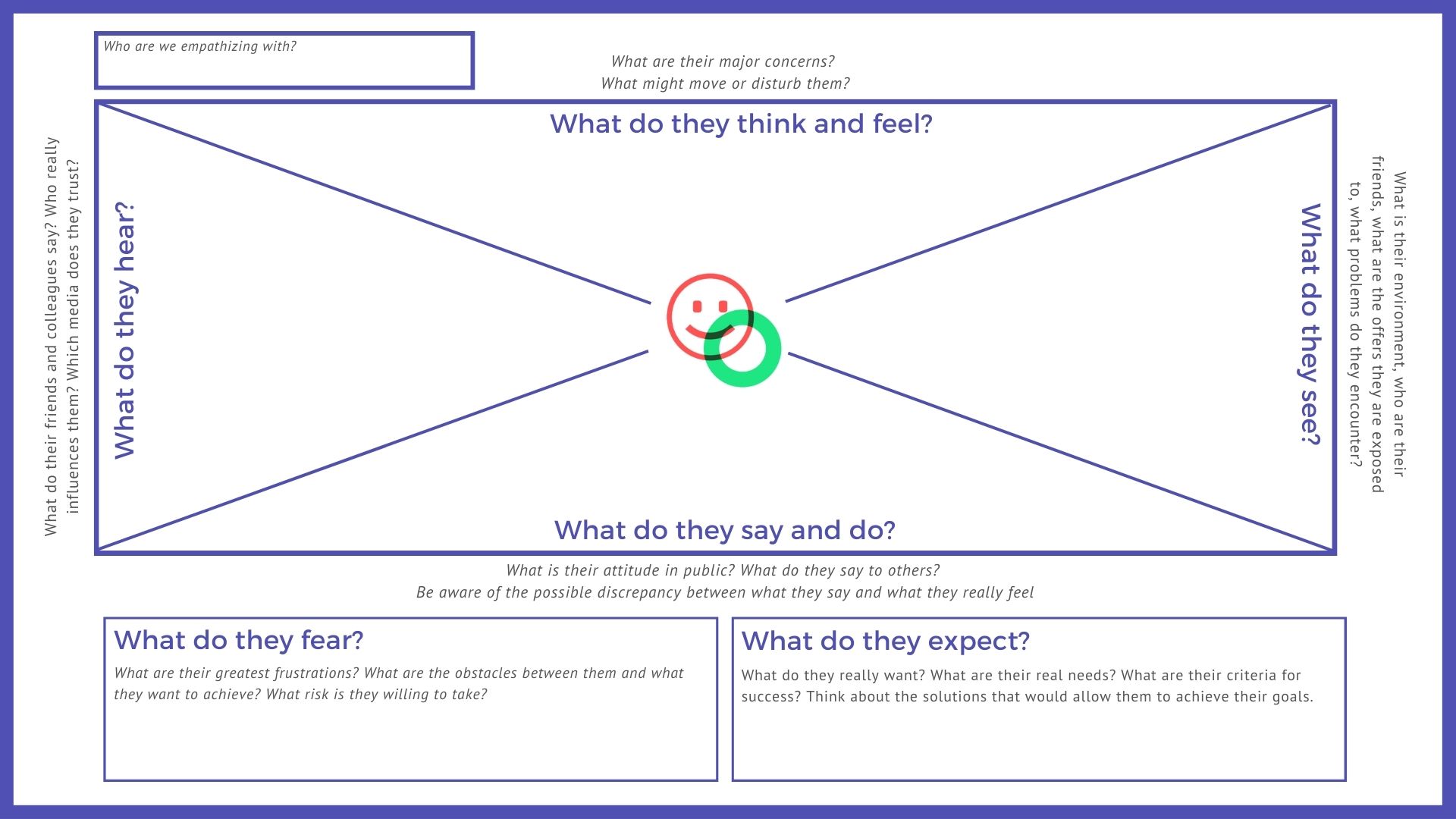 Download the template
Once they've filled in the perceptions, ask the participants to reflect on the beneficiaries' fears and aspirations and to fill out the two boxes at the bottom.
This will help them to identify areas of concern and relevant information they can use to improve the idea, project or process in question.
Bring the sub-groups together so that they can share the main lessons they've learnt from the exercise.
This exercise can be combined with an empathy interview with one or several beneficiaries in order to fully understand their experience.
The group can opt to look at several beneficiaries alongside each other: users, internal and external beneficiaries, partners, agents, etc.